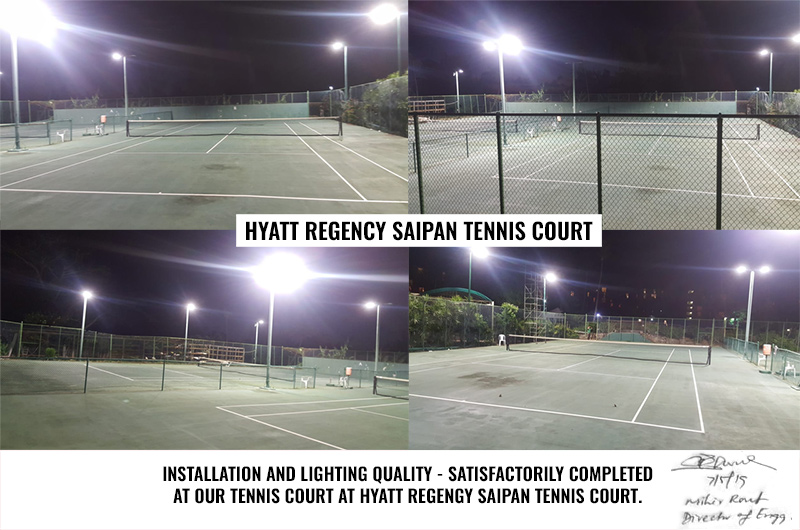 MAYHAN LED SPORTS LIGHTlNG FEATURES
MAYHAN's LED sports light is a game changer for court lighting applications. The low profile oT series utilizes high performance LEDs and precise optics to produce superior levels of illumination and uniformity. Compared with typical HID court lighting systems, the energy load is reduced by 50%.
• High Performance, Full Cutoff LED
• More than 50% Energy Reduction vs. 1000W Metal Halide
• 50,000 Hr Expected Life
• Direct Retrofitt Mounting of Mayhan oT series
• Matching Poles & Brackets Available
• Lightweight for Easy Installation (23 Ibs.)
• Consistent lumen output over fixture life
• Instant On and Dimmable
• Optional wireless control available
• 5-Year Warranty
• Built-in Surge Protection
• Photometric tested in accordance with IESNA standards
MAYHAN (OT) SPECIFICATlONS
• ENERGY SAVING CONTROL OPTlON – DIM – 0-10 volt dimming enabled with controls by others.
• EXPECTED LIFE – Minimum 50,000 hours depending upon the ambient temperature of the installation location.
• LEDS – Select high-brightness LEDs in Warm White, Neutral White or Cool White color temperature, 70CRI.
• DISTRIBUTlON/PERFORMANCE – High performance, multifaceted, reflector provides uniform Forward Throw (FT) distribution
with sharp backlight cutoff. Photometric data is tested in accordance with IESNA guidelines
• HOUSING – One-piece, die-formed aluminum housing contains
factory prewired driver in a gasketed, weather-resistant wiring compartment. Hinged wiring access door (with safety lanyard) located underneath. Fixture is IP66 rated.
• OPTlCAL UNIT – Precision engineered lenses made of opticalgrade Mitsubishi polycarbonate for maximum light intensity. Come standard with field-rotatable optics
• MOUNTlNG – The 白xture is furnished with installed stainless steel , threaded mounting studs protruding from the rear of the housing. Stainless steel nuts and washers used to secure the 白xture to the bracket are also included
• ELECTRICAL – Two-stage surge protection (including separate surge protection built into electronic driver). Available
with universal voltage power supply 120-277VAC (50/60Hz input) and 347-480 VAC.
• DRIVER – Available in HO (High Output) drive current. Components are fully encased in potting material for moisture resistance. Driver complies with FC standards. Driver and key electronic components can be easily accessed .
ORDERING INFORMATION

WATT

VOLTAGE

LED CHIPS

SENSOR

CCT&CRI

OPTIC

BRACKETS

COLOR

300W
400W

NV=100-277V
HV=200-480V

Lumileds 5050

00= Without sensor
SN= Sensor
PH= Photocell
DV=Dimmable

3070= 3000K 70CRI
4070= 4000K 70CRI
5070= S000K 70CRI
5770= 5700K 70CRI
3080= 3000K 80CRI
4080= 4000K 80CRI
5080= S000K 80CRI
5780= 5700K 80CRI

T3 =Type Ill
T4=Type IV
T5=Type V

A= Slipfitter
B= Adjustable Straight Mount
C = Trunnion Mount
D = Slide and Lock Mount
E = Non-adjustable straight mount (Square)
F=Non-adjustable straight mount (Round)

BK=Black
BZ=Bronze
WH=White
SG = Silver
Gray
TECHNICAL SPECIFICATIONS
MODE
WATTS
REPLACE MHL (170LPW)
LUMEN OUTPUT
FIXTURE DIMENSION
NW
MH-300WoT
300W
1000W
43500
9*14*3″ (739*360*75mm)
23lbs (10.5kg
MK-420WoT
420W
1200W
60060
29*14*3″ (739*360*75mm)
23lbs (10.5kg
Along with tennis, MAYHAN Sports Lighting have experience in designing lighting systems for other outdoor activities, including basketball courts,volleyball courts, and skate parks. In the past, MAYHAN products are used in lighting sys-tems for universities, recreation centers, municipalities, and private residences. With multiple fixtures to choose from, MAYHAN can recommend the right product for your project.
*** If we dont produce this item ourselves than it will be made (oem) according to our specifications. ***