Lamp power: 40W
Emitting Color: Cold White, White, WarmWhite
Type: Gas station light
Certification: UL/ETL/DLC/CE/ROHS/TUV
Application: sports centers, gas stations, parking lots, waiting rooms
Product Name: 120w square canopy petrol led for gas station light
IP Rating: ip65
Efficacy: 110lm/W
Color Temperature: 3000K/4000K/5000K/5700K
Operation Temperature: -35℃~55℃
Certificate: UL,DLC,ETL,LM80
IMC led canopy light is UL/cUL/DLC/TUV/CE/ROHS certificated product, Using high quality 3030 chips, LM-80 report and IES data available,110lm/W for fixture.The whole lamp with the powder coating is brighter, without fading and corrosion; Flat grind arenaceous glass len, Built-in light module, easy maintenance, low maintenance costs. Dust-proof and waterproof, IP65. Available with Microwave Motion Sensor to save the power.
Widely used in construction site lighting, plant lighting,industrial lighting, sports centers, gas stations, parking lots,waiting rooms, railway stations, ports, terminals and other large-scale energy-efficient lighting.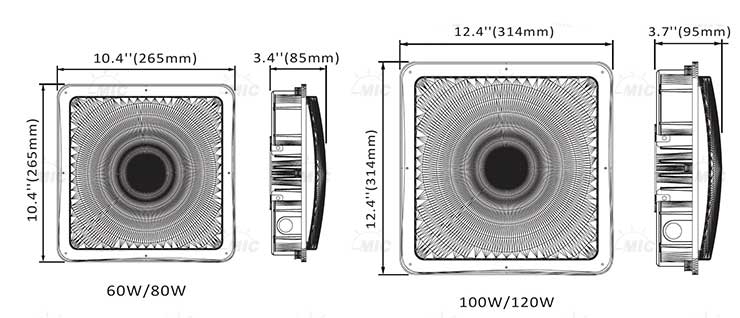 *** If we dont produce this item ourselves than it will be made (oem) according to our specifications. ***